2019-10-29
Alternatives to Granite Countertops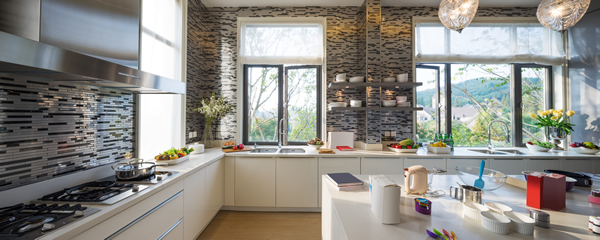 Wouldn't it be nice to have a dollar for every real estate listing that touts "granite countertops" as the end-all, be-all of kitchen work surfaces?
The truth is, the popularity of granite kitchen countertops is ebbing, shifting toward materials that are sturdy yet stylish.
While we hesitate to pile on yet another decision for you to have to make during the remodeling or purchasing of a home, here are a few of the most in-demand countertop finishes.
Quartz
Quartz countertops are perhaps the most popular alternative to granite. Durable and attractive, quartz is glossy and easy to clean. It doesn't require sealing, which is a big reason so many homeowners are turning to it.
Quartz comes in a range of colors too, but your biggest concern may end up being whether that glossy shine works with your kitchen décor.
Soapstone
If your aim is for a sleek look, consider soapstone countertops. The material is nonporous, so it won't absorb nasty bacteria, requires no sealing and clean-up is a snap.
You will need to oil and buffer these countertops, especially during the first month after installation, to keep them looking and functioning their best.
Bamboo
If you're going for the green in your new or remodeled kitchen, consider installing bamboo countertops. Bamboo is a highly renewable resource, it doesn't require harmful glue and it's actually stronger than steel.
You'll find colors that range from light blonde to deep, mahogany brown. Bamboo scorches and stains easily, however, and it's easy to nick it with just the chopping of an onion.
Concrete
Mix up a batch of water, sand and cement and you'll end up with concrete. The antithesis to a green surface (making concrete countertops and distributing them is energy intensive), concrete countertops are nevertheless rising in popularity.
These countertops must be sealed to protect the surface and increase their durability but they can't be beat for their versatility. Whether you want your new kitchen to be sleek and modern or country rustic, a concrete countertop may help create the right vibe.

Subscribe to RSS Feed
Welcome to our Blog!
2019-10-29
3 Importat Tips for Selling a Vacant Home
2019-10-29
Alternatives to Granite Countertops
2019-10-29
HOA? Beware the Rules and Regulations!
2019-10-29
3 Tips for Attending Open Houses
2019-10-29
Update your Bathroom this Weekend
2019-10-29
Writing a Strong Offer
2019-10-29
The Dangers In Over-Improving a Home and How to Avoid Them
2019-10-29
Is your Vegetable Garden ready for Winter
2019-10-29
Buy a Home with No Money Down
2019-10-29
3 Steps to a Healthier, Happier Home
2019-10-29
2 Aspects of the Purchase Agreement every Seller Should Understand
2019-10-29
Buying a FSBO without an Agent
2019-10-24
3 Things to Know about Buying New Construction
2019-10-24
Your Moving Checklist
2019-10-24
Finding your Ideal Neighborhood
2019-10-24
3 Common Home Buying Myths
2019-10-24
Is a Smart Home in your Future?
2019-10-24
2 Things to Know about Home Inspections